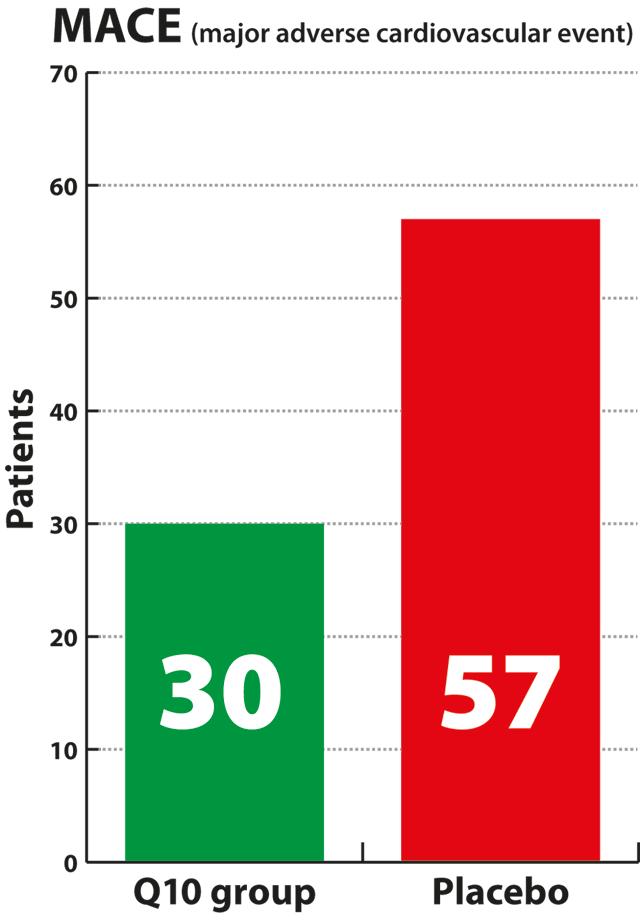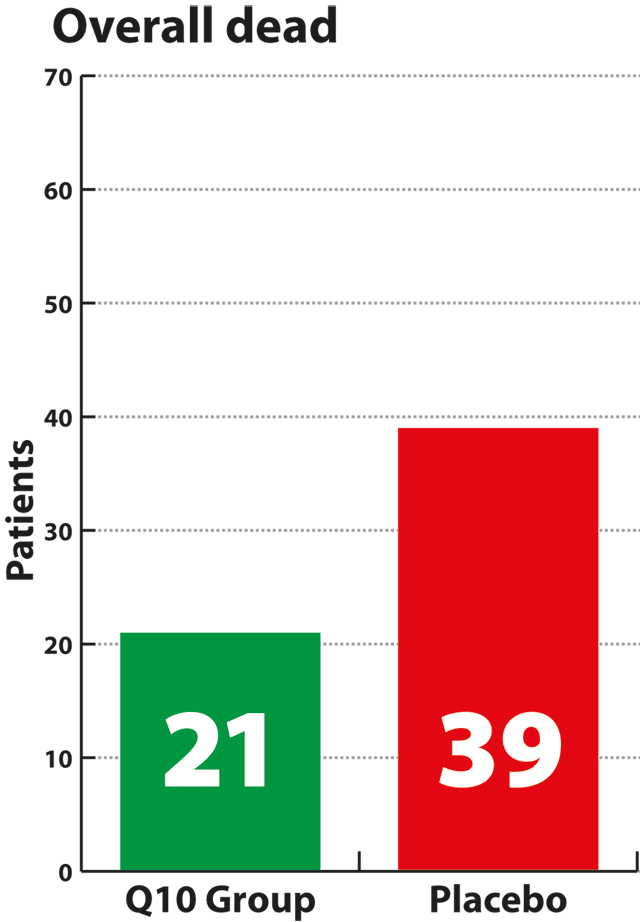 "CoQ10 is the first new medication to improve survival in chronic heart failure, and it should be added to standard therapy."
Assoc. Prof. Dr. Svend Aage Mortensen, Head of the Q-Symbio study.



New data from the Q-Symbio study
At a Q10 conference at Columbia University in New York 2018, Dr. Svend Aage Mortensen's daughter, biochemist Anne Louise Mortensen, presented new data from the European subgroup of the patients in the Q-Symbio study. This new analysis included 231 patients from Denmark, Sweden, Austria, Slovakia, Poland and Hungary. The Q10 group comprised 108 patients who received (Myoqinon) 100 mg Q10 x 3 daily. The placebo group with similar characteristics represented 123 patients.
Anne Louise Mortensen's analysis confirmed a similarly good effect of Q10 on the European part of the patient group. For example:
| Reduction of | EU-patients | All patients |
| --- | --- | --- |
| Severe cardiac events (MACE) | 67% | 43% |
| Cardiovascular mortality | 53% | 43% |
| Death from any cause | 55% | 42% |


Why were there significantly better results in the European subgroup?

Probably because these patients formed a more homogeneous group
Their serum Q10 has been higher throughout the investigation period
There may have been better compliance (patients have been better taking their medication)?
Another diet?
Genetic differences?

References
Egwim C, et al. Global variations in Patient populations and Outcomes in Heart Failure Clinical Trials. Curr. Heart Fail. Rep. 14, 30-39 (2017).
Mortensen SA, et al. The effect of coenzyme Q10 on morbidity and mortality in chronic heart failure: results from Q-SYMBIO: a randomized double-blind trial. JACC. Heart Fail. 2,641-9 (2014).